When seven year-old Alice Lee arrived in America in 1990, she spoke little or no English. She had never even seen anyone who wasn't Asian, let alone a white or a black person. Twenty years later and with degrees from SUNY Stony Brook and CUNY School of Law in hand, little Alice Lee Giannetta—Mrs. New York America 2017—is all grown up.
Born in the Taiwanese capital of Taipei the eldest of two children, Alice enjoyed traditional Chinese life with her extended family, until one day her father who had studied law in America suddenly announced that they were packing up and moving to the land of the free. China has a "one country, two rule" policy when it comes to Taiwan," Lee Giannetta explains : "My grandparents were born in mainland China but they fought against the Communist Party during the Communist Revolution and so they were exiled to Taiwan."
Taiwan was a developing country in the 1980's but still nowhere nearly as prosperous as the United States. As far as Alice was concerned, you might as well have told her that she was moving to the moon—she had no idea where America was or what this meant for her and her younger sibling. A few weeks later with her mother's dog-eared Mandarin-English dictionary in tow they boarded the Taipei Airlines flight to New York and never looked back: "That dictionary," Alice would late recall, "would become our lifeline for us in our new home."
Alice's experience as a student at P.S 21 would influence her present-day work empowering young women of all different backgrounds: "My first day of school in America I was fascinated by the children in my class. I had never seen so many colors of people: black, white, brown, in-between. And yet not one child there looked like me, which made me feel very strange." As Lee Giannetta correctly perceives, seemingly innocuous situations can have lasting and sometimes alienating effects on children, as when they see no one in their immediate surroundings to identify with or to pattern themselves on. And then there were positive cultural differences as well to contend with: "On weekends instead of playing with friends, we had to go to Chinese School and study Chinese and advanced math and science prep classes: education was everything to my parents. I understood implicitly how important it was that I study hard and make them proud."
There was also the issue of American standards of beauty to contend with: "As a young girl I struggled with the fact that only Caucasian girls were being put forth as beautiful by the press. So inwardly I would think: Am I pretty? Will anyone here ever think that I am beautiful?" The old "trial-by-Barbie-doll" crept up on little Alice at a time when the only Barbies around were white and blond: "Dolls in the stores didn't look like me, the girls on TV didn't look like me and the ones photographed in magazines certainly didn't look like me. And, sigh, Cinderella didn't look like me." Instead of studying all the time, Lee longed to try out for the cheerleading team or spend days off playing and going out with friends: "I don't want to exaggerate," Lee Giannetta recalls: "but it was certainly alienating…And I am sure that others didn't understand me either."
Then while she was in high school at Townsend Harris, Lee secretly entered and won a local beauty competition sponsored by a Japanese cosmetics company called POLA that was trying to break into the American market: "I had to defy my mother's wishes if I wanted to continue down this path and so I did not pursue it." The same was true of her passion for journalism. Instead, to please her parents Lee Giannetta chose a safer career: law. So off to law school she went.
Since then, Lee has thrived in spite of having had to adjust her chosen path in life. Since winning the Mrs. New York America crown, she has toured schools in her childhood neighborhood and elsewhere trying to drive home to young women the idea that they should pursue their dreams, and that beauty in particular comes in all shapes, colors and sizes. This message is particularly relevant as May is Asian Heritage Month across the country: "Especially in America, which is so wonderfully multicultural," Lee Giannetta notes enthusiastically "I encourage the young women I mentor to explore all facets of their interests and talents and not to measure themselves against anyone else. If I hadn't done this I would never have become the first Asian woman to win the title of Mrs. New York America! Today young women of all colors are free to be many things and to set their own standards for beauty and success."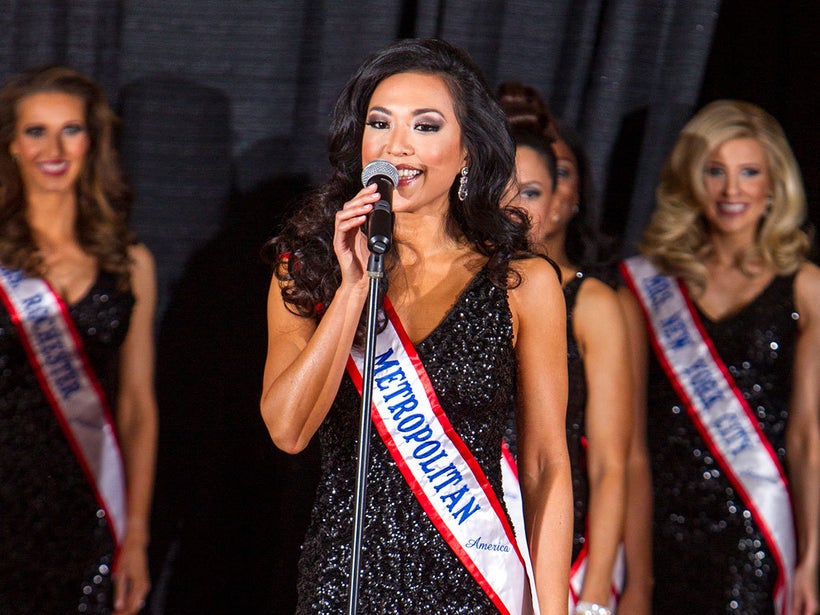 In fact most of Lee Giannetta's philanthropic work with organizations like the Brooklyn Asian Voice Organization (which she co-founded), Covenant House and the Children's Aid Society center around empowering youth to succeed in one way or another. Giannetta Lee uses her own personal experience in these environments to affect direct, positive change on young women: "One homeless girl I work with at Covenant House wanted to be a makeup artist but she told me she's worried she's not attractive…I told her it's not her looks that matter but her skill! She has since left covenant house and decided to purse cosmetology."
But Lee Giannetta is also happy to be helping to correct the stereotype of Asians as being one-sided and overly cerebral. "After I won the Mrs New York America title," Lee Giannetta notes " a lot of my Asian American friends told me they were happy to see an Asian American woman breaking the mold of the 'model minority' stereotype—i.e. academic high achievers but shy and reserved." Some fifty years after Second Wave feminism hit America through the work and activism of women such as Betty Friedan, Germaine Greer and Gloria Steinem, times have certainly changed for women everywhere. But a lot still remains to be done. In a world where the likes of Donald Trump and Bill O'Reilly continue to degrade minorities and insult women, Alice Lee Giannetta's message takes on added importance: "I am very proud to tell you that my mother who came to the U.S. speaking not one word of English, recently earned her Masters Degree here." So it seems that for some immigrants the American Dream is still alive and well, the result of equal doses of education, hard work, and perseverance: "You can do anything you want in America if you put your mind to it," Alice repeatedly tells people: "As for the face of America, I am the face of America. We all are." Hear that Mr. Trump?